Even as an iterative update to an existing computer, Dell's XPS 15 9520 is pretty mild. It's super-iterative. The only thing that separates it from the XPS 15 9510 we reviewed last year is that it swaps the 11th-generation Intel processors for 12th-gen versions. Everything else, from the design to the screen to the GPU, is the same (unless you count changing the foreshortened Windows 10-era rectangle logo on the Windows key to a square Windows 11-era logo).
So we won't spend much time redescribing things about this laptop that we have already mentioned. Weighing just a bit over four pounds, this is still a computer made for people who want more power than a 13- or 14-inch laptop can provide, but who still care enough about size and weight that they don't want to graduate to a full-size desktop or a bulky gaming laptop.
It still has a nice slim-bezel screen, a huge trackpad, a comfortable keyboard with firm-but-not-too-firm keys and a pleasing amount of travel, and Thunderbolt and USB-C ports for accessories and charging (plus a single SD card reader and a headphone jack). A fingerprint reader, face-scanning Windows Hello-compatible IR camera, and a 720p webcam and speakers (serviceable-but-middling in both cases) round out the basic amenities.
It is worth reiterating some of the finer technical points for people who don't want to fish them out of a year-old review. The two ports on the laptop's left are Thunderbolt 4, while the port on the right is plain-old USB-C. It retains a pair of RAM slots for removable DDR5 memory modules (an upgrade from last year's DDR4), plus an extra M.2 2280 slot for a second NVMe SSD. The system's 130 W power brick uses a USB-C connector, but it's still technically proprietary—you can charge the laptop at a slower rate with any old USB-C charger, but you may still need to use Dell's for full power and performance.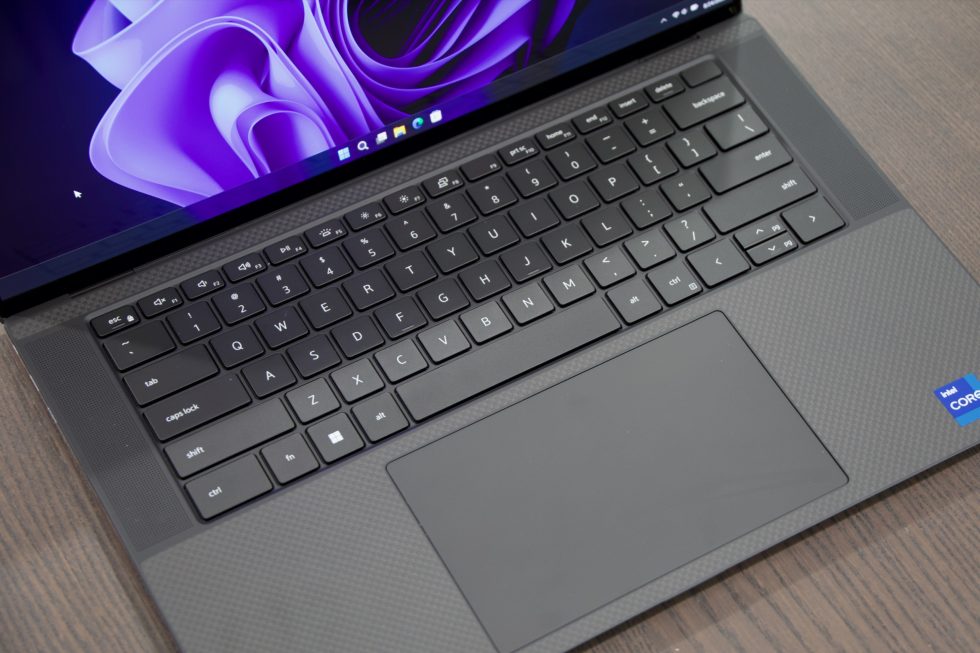 We tested the model with the 3456×2160 OLED display, which sits in the middle of the entry-level 1920×1200 IPS panel and the top-end 3840×2400 IPS panel. It's nice to have the option for people who prefer OLED's infinite contrast, but the slight graininess (especially visible when looking at flat, textureless fields of white or color) and oversaturated colors are the prices you'll pay. The screen's max brightness of 404 nits and its 100 percent sRGB and 99.4 percent DCI-P3 gamut coverage (as measured by an i1Display Studio colorimeter) are all good, though.
Performance and battery life
Compared to the Core i7-11800H in our review model from last year, the 12700H jettisons two big CPU cores and replaces them with eight efficiency cores, a trade-off that isn't noticeable in single-threaded or lightly threaded tasks but does provide a modest boost for CPU-heavy rendering or video transcoding tests. Here are some of the systems we're comparing:
The Dell XPS 15 9520, with a Core i7-12700H (6 P-cores, 8 E-cores), 16GB of DDR5 RAM, and an Nvidia GeForce RTX 3050 Ti GPU.
The Dell XPS 15 9510, with a Core i7-11800H (eight P-cores), 16GB of DDR4 RAM, and an Nvidia GeForce RTX 3050 Ti GPU.
Microsoft's Surface Laptop Studio, with a Core i7-11370H (four P-cores), 16GB of LPDDR4X RAM, and an Nvidia RTX A2000 GPU.
Lenovo's ThinkPad X1 Carbon Gen 10, with a Core i7-1260P (four P-cores, eight E-cores), 16GB of 5200 MHz LPDDR5 RAM, and an Intel Iris Xe integrated GPU with 96 EUs (results shown are in "Best Performance" power mode).
Lenovo's ThinkPad Z13 Gen 1 has an AMD Ryzen 7 Pro 6850U (eight P-cores), 16GB of 6400 MHz LPDDR5 RAM, and an AMD Radeon 680M integrated GPU with 12 GPU cores (results shown are in "Best Performance" power mode).
The 14-inch MacBook Pro, with an M1 Pro (eight P-cores, two E-cores), 32GB of LPDDR5 RAM, and a 16-core GPU.
The 9520 is still decent as a low-end to mid-range gaming laptop, but its Nvidia GeForce RTX 3050 and 3050 Ti GPU options are the same as last year, so it should come as no surprise that they perform the same, too. You might notice some differences here or there in games that are CPU limited (see the improved CPU subscore in 3DMark), but the GPU will be the bottleneck in most games.
As it was last year, Dell's default performance tuning (the "Optimized" setting, in the BIOS under the "Power" menu or in the My Dell app) prioritizes reasonably cool and quiet operation, with average CPU temperatures hovering in the mid-80° Celsius range during an extended Handbrake video encoding job. The result is a CPU that occasionally improves a lot compared to its most direct predecessor, and sometimes doesn't improve at all; the new XPS 15 was 13 percent faster than the old one in our Handbrake test and 33 percent faster in Geekbench's and Cinebench's multi-core tests, but there's effectively no difference in any single-core test.
But as in every review of every Alder Lake desktop or laptop CPU we've tested, giving the processor the extra power it so desperately wants can have an outsize impact on sustained performance. Setting the performance level to "Ultra Performance" in the BIOS raises the CPU's thermal and power limits, which bumped up speeds across the board in our benchmarks.
We observed the most noticeable differences in sustained multi-core tests and in single-core tests, with only minor differences in lighter multi-core workloads and GPU-centric tests. With more power, the laptop is about 12.5 percent faster in Handbrake than it is with its default power settings and a more-impressive 24 percent faster than its predecessor. In this mode, CPU temperatures are allowed to hang out in the high-90s rather than the mid-80s—the PL1/PL2 levels as reported by HWinfo were inconsistent, maxing out at a value of 76/115 W, but the boost seems to be coming mostly from that increased thermal limit.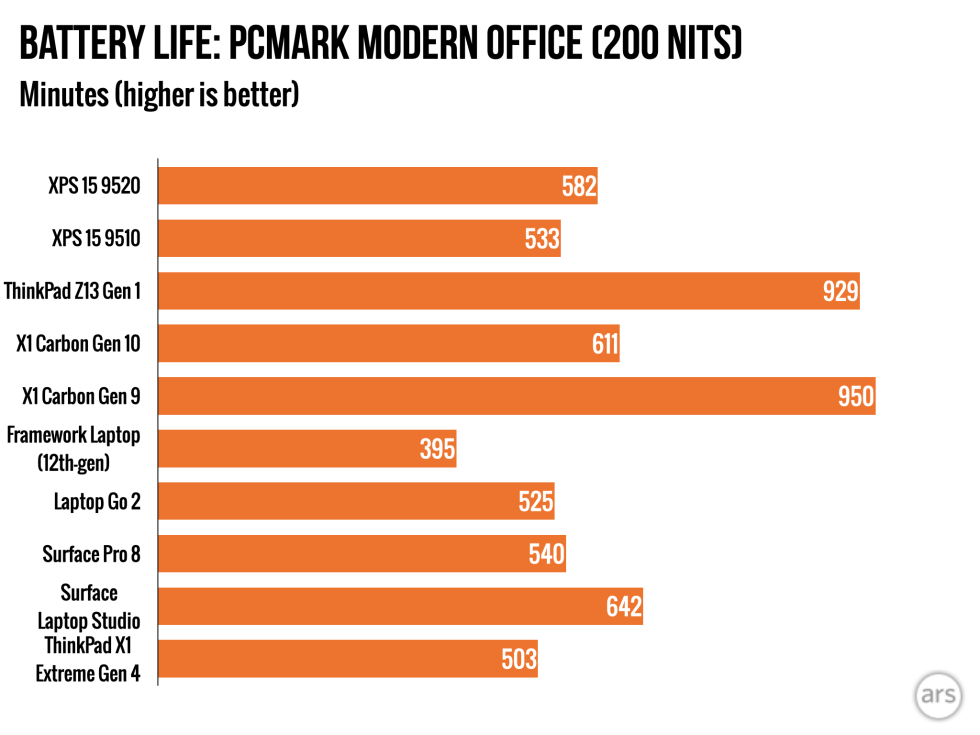 While thin-and-light laptop battery life has suffered at the hands of 12th-gen Intel CPUs, the new XPS 15 actually did a bit better than the similarly configured last-gen model in our PCMark battery life test (this was run in Optimized mode, though we've found that PCMark's results don't vary much regardless of the power settings you're using). That may be because so many thin-and-light laptops, including the X1 Carbon Gen 10 and this year's various XPS 13 models, also climbed up a rung on Intel's performance and power use ladder in the jump from 11th- to 12th-gen. This didn't happen for the XPS 15; both the 9510 and 9520 use H-series processors with similar TDPs. In any case, the new XPS 15 doesn't ask you to sacrifice battery life for better multithreaded performance as many 12th-gen laptops do.
At least there's no downside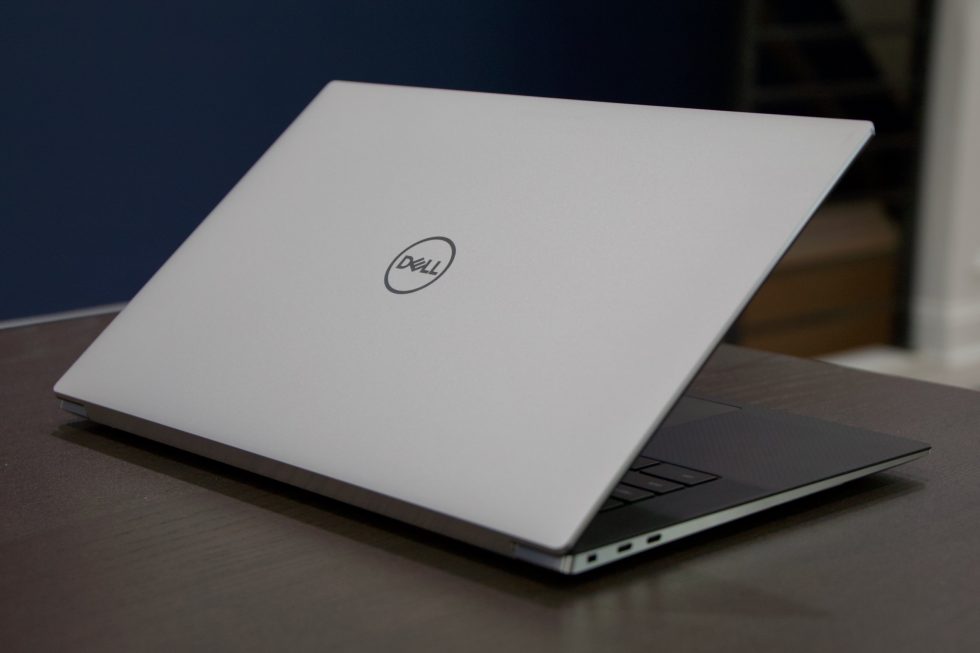 SPECS AT A GLANCE: DELL XPS 15 9520
DISPLAY
15.6-inch 3456×2160 OLED  touchscreen (261 PPI)
OS
Windows 11 Home
CPU
Intel Core i7-12700H (six P-cores, eight E-cores)
RAM
16GB 4800 MHz DDR5 (2 DIMMs)
GPU
Nvidia GeForce RTX 3050 Ti (4GB, 45 W)
STORAGE
512GB NVMe SSD
NETWORKING
Wi-Fi 6E (802.11ax), Bluetooth 5.2
BATTERY
86 Wh
PORTS
2x Thunderbolt 4, 1x USB-C 3.2 gen 2, SD card reader, headphones
SIZE
13.57×9.06×0.17 inches (344.7×230.1×18.0 mm)
WEIGHT
4.31 pounds (1.96kg)
WARRANTY
1 year
PRICE AS REVIEWED
$1,949 at Dell
Any other year, a laptop that was a bit faster than its predecessor without being worse in any notable way would be completely unremarkable. But Intel's P-series 12th-generation chips have delivered mixed benefits for thin-and-light PCs, with sometimes-impressive performance increases offset by frustrating heat and battery life regressions.
The XPS 15 9520 avoids those downsides. Its battery life is a bit better than the model we tested last year with the exact same screen and GPU in it, and its CPU performance is a solid step up. As with last year's model, we appreciate that Dell's default power tuning offers a good mix of performance along with reasonable heat and fan noise. And par for the course with Intel's Alder Lake CPUs, you have the option of significantly increasing your performance if you raise the processor's power limits and don't mind the accompanying temperature increases.
If you have a laptop you bought in the last two or three years and you're still reasonably happy with it, you might be better off waiting for next year's XPS 15, which will hopefully include a new GPU and a tweaked 13th-generation CPU. But if you have something older and you want or need a replacement today, there's no reason to avoid the 9520, which is higher praise than it ought to be.
The good
Nice design that blends power and portability
Good performance, with an option for better performance if you're OK with letting the CPU run hotter
Default power settings are tuned for reasonably cool, quiet operation
Respectable keyboard and trackpad
Decent battery life for the size
The bad
OLED display option has nice contrast but looks grainy
No GPU upgrade from the previous model and no option to use anything more powerful than an RTX 3050 Ti
The ugly
Other workstation-y laptops offer more ports, both in quantity and variety